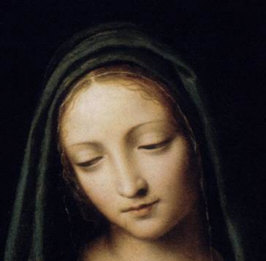 The Virgin Mary is one of my favourite people from history. Images of her serene and gentle face always draw me in and give me a sense of being more grounded and trusting. One of the best lessons she brings is that aggravating daily circumstances are not a sign that we're not blessed. When Mary told Gabriel, God's Messenger angel, "Let it be as you have said," I wonder if she knew all that would involve.
Imagine facing the sadness of having former admiring friends looking at you and whispering about the scandal you've been involved in, not to mention facing the real threat of being stoned for adultery by the leaders of her day. Months later, your circumstances involve a grueling trip for miles on the back of a donkey, which can't be much fun for a girl nine months pregnant. Then you're relegated to the straw of a stable to give birth and all you find is a manger in which to place your new-born son, who God has promised will be the Savior of all mankind. I can imagine myself grumbling, "You'd think after all I've been through, at least He could have arranged a comfy inn and trained midwife. Blessed above all women? I don't feel like it right now." Yet we know she was.
The principle operates in the lives of others. Although we know Ruth and Naomi were blessed when they decided to leave Moab to live in Israel, it didn't look like it for some time. Ruth still had to spend days gleaning grain behind the plows of workmen just so they wouldn't starve. And Joseph, one of the most hard-done-by people of all time, spent many of his prime years mouldering away in jail for a crime he didn't do. But was he blessed? Of course.
I think it's easy for us to operate with a twenty-first century sense of entitlement. It's fashionable in this day and age to want to claim our rights. This is the attitude that may make us grouchily assumed we aren't being blessed when we are, abundantly.
A few weeks ago, I met an old friend I'd lost touch with back in 1989. Her name is Judith and she'd been teaching me to play piano for awhile when I was a Uni student. I was sitting in my car reading, filling in time until picking up my daughter from an art lesson. Judith accidentally let her door hit my car and when she glanced over to say sorry, she stared at me and motioned for me to open up.
"Are you Paula? You haven't changed a bit since I knew you before (
which was nice of her to say, seeing I was 19 back then
)." She went on to tell me that she'd seen the story in the local paper about how I'd won the CALEB prize for faith-inspired fiction. She went on to say how it had brought back memories of old times and how fantastic she thought it was to see somebody with a dream manage to achieve it. When I told her that I'm married to a saxophone player in his second year at Uni and we're homeschoolers, she went on to say what a creative and admirable couple we are, that many people cop-out and miss the best in life, and our children have such a great example to follow.
Now, the thing is, I'd been sitting there feeling a bit glum because Christmas was coming, we were always broke, a few days earlier Emma had said, "I wish my parents had proper jobs" and I felt like a middle-aged, tired old failure and frump. By the time I'd said goodbye to Judith and given her a copy of "Best Forgotten" for old time's sake, my attitude had spun around and I started smiling and realising that perhaps we are blessed abundantly after all. I can't help wondering if such a chance encounter is far more than mere coincidence.
I think I've hit upon some of the cause of modern misery. God doesn't change! We know that much. What has changed, over centuries, might be our expectations and sense of entitlement. The natural fluctuations of life, which swell and subside like a wave, are the same as they have been since the world was put in place.
I wish all who read this blog a blessed Christmas.