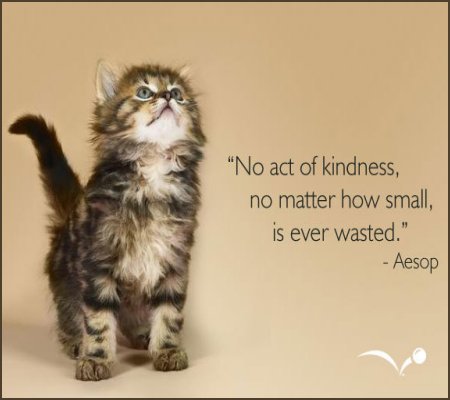 A few years ago, several people recommended a series on TV called "Random Acts of Kindness" which they thought was great. When I watched an episode, something immediately stood out to me. On this program, a few main groups of people were recipients of hugely elaborate gestures.
1) People who had dealt with long recoveries from serious accidents or injuries.
2) People who had poured resources into their community in the form of service, help or time.
3) People who had committed really heroic deeds.
4) A combination of any or all of the above. (There were more combinations than I would have expected.)
I enjoyed watching the surprise on the recipients' faces and the tears flowing freely from everybody concerned, but I still thought the program's name was misleading. It could have been called
DAOK
(Deserved Acts of Kindness) To me, the choice of recipients wasn't totally random at all but carefully selected based on the above criteria.
What if it
was
totally random? What if recipients were selected from the White Pages or a stroll down the street? What if unexpected acts of generosity happened to people who are doing nothing more heroic than trying to pay their next rent or mortgage, put their kids happily through school, and squeeze their grocery shopping into already crammed trolleys and schedules? Our country is full of single mums who struggle to get their children ready for school each day before joining the rat-race. There are dads who are concerned about house repairs which need to be done with not enough month at the end of the money. Think of housewives who face their thousandth load of greasy pans and sauce-splattered plates by the sink while they're exhausted, and families who have to opt for paying off their power bills over taking a short holiday.
I heard about a photograph of an anonymous group of people. Everybody who saw it assumed the subjects were witnesses of some catastrophic event, or attending a funeral at the very least. It turns out they were sitting in a train carriage at 8am on a weekday morning on their way into work. Just a couple of the quiet, unsung heroes and heroines who repeat the same routine over and over, day after day, living their lives in quiet desperation.
Imagine what sort of a world it would be if people intentionally did true random acts of kindness for others each week. I used to think I had no money to manage anything good enough. I've come to see that this makes no difference at all. Most of us are so parched for acts or words of kindness or friendliness that the smallest gesture will be soaked up like a sponge.
When I attended the Writers Fair in Perth last April, I was given a free book by another author named Elaine Fraser. Being on a really tight budget, I was looking at the lovely cover of her book, "Too Beautiful" and thinking I'd have to do without. She said, "Just take one with my blessings." Wow! In my 41 years of life, that hasn't happened to me enough to count on my fingers. I can tell you, that was the first book I wanted to read on the plane back to Adelaide. And whenever I see its spine in my shelf, I remember her kindness.
I love it when acts of kindness are truly random as well as deserved.* I like to think how Jesus set a precedent for them. Many of his recipients were not super-deserving but just normal people going about their usual work. "Hey Zaccheus, come down from that tree! I'm having lunch with you... Hey Levi, would you consider leaving that tax booth and coming with me?... Excuse me ma'am, would you mind dipping that bucket down the well to get me a drink? Yes, I know I'm in Samaria but if you knew who I was, you'd ask me and I'd give you living water."
That's grace. That's his way of showing us that random and deserving should, in fact, blend into one, because we all deserve random acts of kindness.
* For anybody interested in RAOK, my novel "A Design of Gold" explores the subject in more depth. Several characters are determined to figure out exactly how, when, why and where they should be carried out and the specific science behind them. Their conclusions may come as a big surprise. Copies available from Koorong, Word, other selected Christian bookstores, or contact me for a signed copy.